Alliance Membership Seal Guidelines
These guidelines are for ACCCE's Alliance Members wishing to use one of ACCCE's Alliance Membership Seals on their website or other marketing material.
Use the seal associated with your alliance membership type.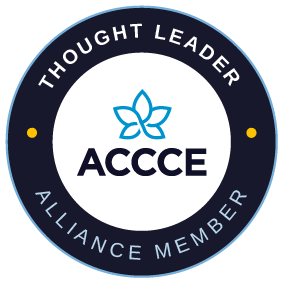 Cannabis Risk Management Seal
*By downloading the ACCCE Alliance Member seals, you are confirming that you are a current alliance member with regard to the respective seal.
Where Can I Use the Seal?
You can use your seal to show your alliance membership with ACCCE. Approved uses are:
On your website: in your footer or on your alliance page if you have one
In your email signature: you can place your seal alongside your logo or beneath your signature to demonstrate your alliance with ACCCE
On printed items such as reports, brochures and marketing materials
If used electronically you must link the seal back to the ACCCE homepage (https://accce.org/)
Example of seal in website footer
Example of seal on an alliance page with other seals/logos
Clear Space and Minimum Size
The clearspace and minimum size specified here must be followed for all seal types.
No design elements, other logos or text can infringe on this 'clear' area. The clearspace is defined by the specified 'X-height'.
Background
The seals can be used on any color of background and also over images. Complicated 'busy' patterns or images that compete with the seal should be avoided.
Accompanying text
You can include the following accompanying text with your seal, replacing "Business Name" with your company's name:
Business Name is a member of the Association of Certified Commercial Cannabis Experts
The seal can be used without text if you prefer.
If you include the accompanying text it should be:
Placed underneath the seal
Spread over two to three lines
At least 12px
Spaced 0.5 x-height from the seal and the seal clearspace should then be applied below the text;
Either black (#000000) or white (#ffffff) and legible against the background 
In either Arimo (preferred) or Arial typefaces
Do
Link the seal back to the ACCCE homepage (https://accce.org/)

If the seal is used in a group of other alliance seals/logos, ensure it is a similar size/level of hierarchy 

Follow the guidelines specified above

Contact us to ask about other uses
Do not
Use the seal on a busy or cluttered background
Change the color of the seal
Use a seal that is different to your alliance membership level
Rotate the seal so it is at a different orientation to the rest of the material
Add any embellishments to the seal such as outlines, drop shadows or Santa hats
Alter the proportions of the seal
If you have questions about the use of your seal or would like to use it in a different way than is outlined above, please contact [email protected].